The New 2020 Toyota GR Supra
After a lot of anticipation, the Toyota GR Supra is finally back and offering more exhilarating features than before. As a pure expression of performance, you can discover a new connection with the road with a precisely balanced design. With the new 2020 Toyota GR Supra's incredible features and design, it ushers in a new era of performance sports cars.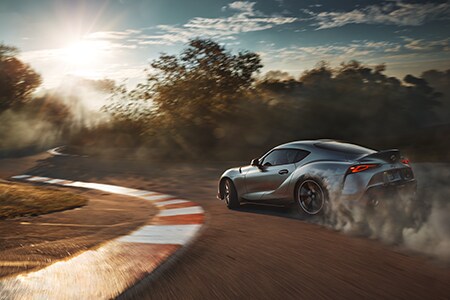 Performance
The new GR Supra delivers a thrilling driving experience with a 3.0-liter twin-scroll turbocharged inline-six engine that delivers 335 horsepower and 365 pound-feet of torque. It's not just power that you will have to look forward to as well. The new GR Supra offers an impressive fuel economy with 24 MPG in the city and 31 on the highway for 26 combined.
The engine is moved back as far and as low as possible find an optimized center of gravity with a nearly perfect 50:50 front/rear weight distribution. The GR Supra comes with a sporty chassis, an adaptive suspension, and Michelin® Pilot® Super Sport tires, ensuring that the Supra not only looks the part but also performs it too. The GR Supra comes with an active differential and Brembo® front brakes for incredible control and handling.